Will you start a fundraiser today? Together we can save a species.
It's World Gorilla Day, and just like our teams in the field, YOU can help keep gorillas safe every single day - join our efforts and start a fundraiser!
Dian Fossey founded her research center on Sept. 24 1967. Situated between mount Bisoke and mount Karisimbi, she named her research center Karisoke. 56 years later, the Dian Fossey Gorilla Fund is carrying on her legacy and while we might have helped prevent Dian's prediction of mountain gorillas going extinct by the year 2000, they still face incredible threats and with just over 1,000 individuals left, each gorilla is critical to the future of their species.
Will you join us in celebrating World Gorilla Day on Sept. 24 and help save a species?
We're helping people and saving gorillas this World Gorilla Day and your generous support makes our work possible!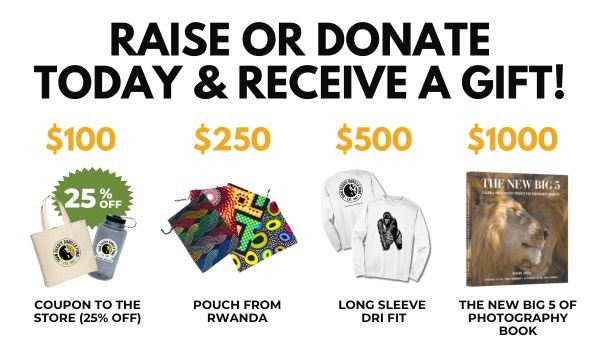 When you donate or raise money for World Gorilla Day, the gorillas give back! This year we are excited to have pouches made by a women's co-op near our campus in Rwanda. Each pouch comes with a bio of the woman who hand made your pouch so you can learn a little about them. We are also thrilled to be able to have Graeme Green's book The New Big 5, which showcases the big 5 of photography. The book, which features gorillas as one of the new big 5, has a forward by our CEO, Dr. Tara Stoinski. Don't miss your chance to grab these great incentives available through our World Gorilla Day campaign.
Not able to make a gift at this time? Check out our World Gorilla Day T-shirts. Available for a limited-time, 100% of net proceeds go directly towards gorilla conservation. Order through our online store.